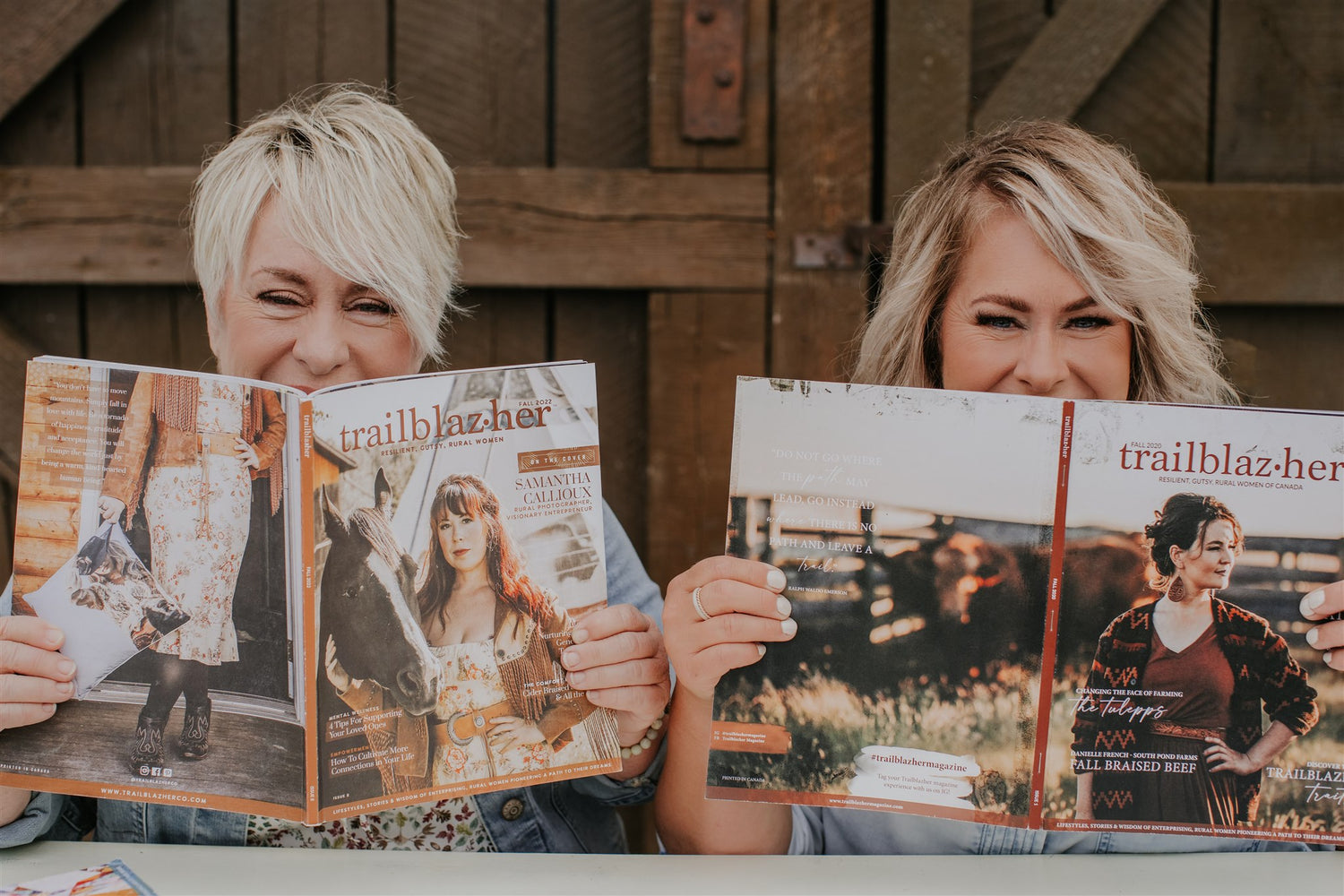 Welcome to the Shop!
Hi! Jan and Erin here! Founders and creators of the gorgeous keepsake magazine - Trailblazher!
Here you will find the current and past issues of Trailblazher and our popular subscriptions and gift options.
May we recommend a magazine subscription - you're not going to want to miss an issue!
Shop the Winter 2023 Issue #13
Choose from a single issue or a 1, 2 or 3 year subscription.
Regular price

Sale price

$19.00 USD

Unit price

per
Trailblazher Makes the Perfect Gift
Regular price

Sale price

$19.00 USD

Unit price

per

Regular price

Sale price

$19.00 USD

Unit price

per
Explore More
Trailblazher Co.

Trailblazher Co. is a multi-platform brand consisting of a keepsake magazine - Trailblazher, The Trailblazher podcast and The Rural Business Membership with one mission - to educate and inspire communities to explore life beyond the city limits to amplify and support the meaningful lives and businesses of rural women in North America.

Learn More

Jan and Erin

We're best friends, mother and daughter, rural entrepreneurs,business partners of over two decades and co-founders of - Trailblazher Co. Over 23 years ago we jumped into the world of entrepreneurship, determined to create a meaningful business using our skills, gifts and passions in a BIG way. With lots of ups and downs, and many businesses behind us,our hard work paid off when the stars aligned 3 years ago when we launched our brand - Trailblazher Co.

More About Us

The Trailblazher Podcast

Hosted by Jan and Erin Johnson, co-founders of the multi-platform brand Trailblazher Co. and mother and daughter business partner of over two decades. With a deep passion for exploring the stories behind rural women, Jan and Erin peel back the layers into what makes rural women persevere on their paths to becoming Trailblazhers. We're talking grit, resilience, creativity, resourcefulness & gutsiness! Available wherever you listen to podcasts.

Listen Now